Fernández Míguez, Dr. Sheila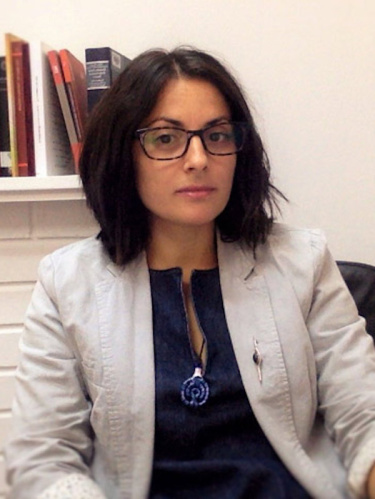 Email:
sheila.fernandez

[at]

udc.es
Areas of Research:
Human rights, access to justice, macho violence, violence against women, feminists theories and ethics theories, criminal justice and decolonial criminology
Regional Focus:
South America (especially Chile and Wallmapu, territory of the mapuche people's) and Australia
Education:
| | |
| --- | --- |
| | Master in Legal Feminisms. Feminist Theory and Practice of Law. Autonomous University of Barcelona |
| | |
| | Universidad da Coruña and, Universidad Autónoma de Chile, PhD in Law (Hons) |
| | Universidad de Vigo, Master's Degree in Minors in Situations of Unprotection and Social Conflict |
| | Universidad da Coruña, Bachelor´s degree in Law |
Professional Experience / Applied Research:
| | |
| --- | --- |
| | Participating researcher in the FONDEF R&D Idea Project ID22I10207: "Clinical-legal care protocol project with intercultural profile for migrant and indigenous population". Project Director, Dr. Juan Jorge Faundes Peñafiel. |
| | Researcher in charge of the Postdoctoral Project "Access to justice for indigenous women. Ancestral justice, cultural identity and gender equality, problems and standards for regulation in Chile". |
| | External collaborator Research group on Criminology, Legal Psichology and Criminal Justice in the 21st Century. |
| | Legal and legislative advisor of the "Agrupación Lésbica Rompiendo el Silencio" (Lesbian Association Breaking the Silence). |
| | Professor of Criminal Law, University Autónoma of Chile. |
| | Lecture of criminal law, Universidade Autónoma de Chile and Universidade da Coruña. |
| | Lawyer in the Law Firm "Reverter Abogados". |
| | Lawyer in the area of criminal and penitentiary law at the Law Firm "Despacho de Abogacía". |
| | Lawyer's internship in the criminal and penitentiary area. Guillermo Presa Law Firm. |
Fernández Míguez, Sheila (2022-en prensa) "Aproximación histórica a la cultura de la violación en Chile (1598-1895)": In Raul Carnevali (coord.) Libro Homenaje al Profesor Künsemüller L., Editorial Tirant Lo Blanch.
Fernández Míguez, Sheila (2022) "Aproximación desde una perspectiva jurídica decolonial al tratamiento jurídico-chileno de la violencia intrafamiliar. Análisis intercultural de los acuerdos reparatorios entre personas del Pueblo" In: Irene Merino Calle, Alejandro Hernández López and Elena Laro González (dirs.) Desafíos del derecho en la sociedad actual. Reflexiones y propuestas. Ediciones Universidad de Valladolid, Valladolid, España, pp. 45-57.
Fernández Míguez, Sheila (2022) "El patriarcado, una aproximación desde la pluralidad cultural para una eficiente contabililización de las víctimas", en Alejando Lois de Pablo Serrano, María Flora Martín Moral y Patricia Tápia Ballesteros (dirs.) Retos Pendientes en el camino hacia la igualdad de las mujeres en el siglo XXI. Debates en el ambito del Derecho, la Criminología, la Sociología y los Medios de Comunicación, Editorial Reus, Madrid, España. 
Fernández-Míguez, Sheila. F. (2019). "Feminismo punitivista. Carceral Feminist". Andaina: revista do Movemento Feminista Galego, (70), 32-38, available at https://www.researchgate.net/publication/338792420_Feminismo_punitivista
Fernández-Míguez, Sheila, & Faundes-Peñafiel, Juan. Jorge. (2019). "Emergencia de las mujeres indígenas en América Latina. Debates sobre género, etnicidad e identidad cultural. The emergence of indigenous women in Latin America. Debates on gender and ethnicity". Revista Chilena de Derecho y Ciencia Política, 10(2), 53-96, available at https://cuhso.uct.cl/index.php/RDCP/article/view/2051
Fernández-Míguez, Sheila (2018). "Cuestionando el sujeto estándar en derecho: análisis crítico de los conceptos minoría y mayoría de edad, niño, menores y adolescentes. Questioning the standard subject in law: critical analysis of the concepts of minority and majority, child, minors and adolescents" Revista Justicia y Derecho 1. (1), 67-87, available at https://revistajusticiayderecho.com/index.php/rjyd/article/view/44
Fernández-Míguez, Sheila, & González Gronemann, Luciano. (2017). "Análisis crítico de la nueva ley 21.030 de despenalización del aborto en tres causales en Chile, desde la cosmovisión mapuche y la teoría decolonial de género. Critical analysis of the new law 21.030 on abortion in Chile, from the mapuche culture and the gender decolonial theory".  Revista InSURgência, 414-545, available at http://ojs.bce.unb.br/index.php/insurgencia/article/view/27557/0
Fernández-Míguez, Sheila (2017). "Crítica a los conceptos de maltrato a la mujer desde la epistemología feminista. Critique of the concept of mistreatment against women from feminist epistemology". Revista F@ ro,  2, (26), 120-142, available at http://www.revistafaro.cl/index.php/Faro/article/view/493
Fernández-Míguez, Sheila. (2015). Constitucionalización indígena: Variaciones jurídicas y metajurídicas. Revista chilena de derecho, 42(2), 715-717, available at https://scielo.conicyt.cl/scielo.php?pid=S0718-34372015000200014&script=...
Fernández-Míguez, Sheila (2015). "¿Son los menores ciudadanos? ¿Y las niñas? Una cuestión terminológica o algo más sobre los Derechos Humanos. Are the minors citizens? What about the girls? A question of terminology or something more about human rights". Congreso Internacional Infancia en Contextos de Riesgo, 1562-1575, available at https://www.researchgate.net/publication/339068878_SON_LOS_MENORES_CIUDA...